The Final Countdown
This is it my friends. The day that we've all been waiting for:
Election
Day
2004
. Hopefully I've caught you before you've headed out to the polls. If not, make sure that you've studied up on this year's
candidates from your area
.
Enjoy and Good Luck!
Bad officials are elected by good citizens who do not vote. - Andrew Lack
http://www.getofftheinternetandvote.com/
- This contest is sponsored by the coolest artist from a swing state. Take your camera to your local voting spot today and document your trip...lots of fun prizes are waiting!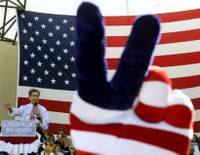 (photo courtesy of AP)