Good & Bad News
Today I've got a bit of bad AND good news. Which do you wanna hear first? The good news? Okay, here goes...
Apparently, Canada has been waiting for Bush to win the election. They have set up a
site
for those American liberals, who they call a "threatened species", who are ready to flee the country and looking for a Canadian mate to cuddle up to in the sub-zero temperatures. This matchmaking site allows Canadians to "take the pledge" to "liberate, through the legal and binding act of marriage, a willing citizen from the United States of America...to helpmy new Yankee spouse to adapt to life in the great white north...and to provide him/her with a reasonable supply of
Timbits
."
And the bad news? It's not recent news, but something that I was unaware of and it made me sad none-the-less. Get your tissues ready, It's Keiko's
"Last Whale and Testament."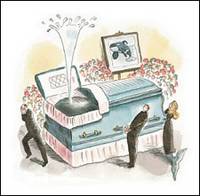 (illustration by Barry Blitt)